Do you have booty goals? You can build great glutes from home with consistency and hard work. Try my go to booty building home workout.
I lost 65 pounds from home which left my backside flat as can be. I switched my focus from cardio and low calories to strength training and balanced eating and my booty-building workouts paid off.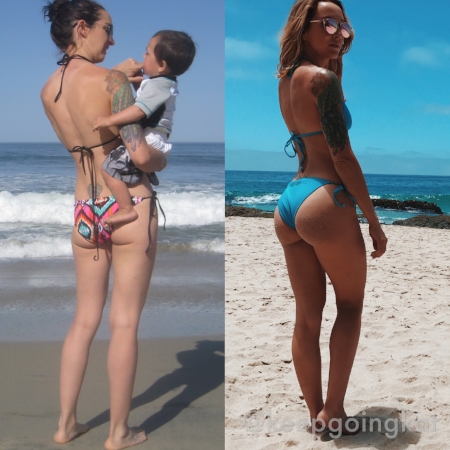 Try out my home booty builder workout. This workout combines pumpers, stretchers, and activators to build your booty at home. You will need a loop resistance band and set of dumbbells to complete this at home booty building workout.
You will need:
Yoga Mat
Set of Dumbbells 8-15lbs depending on your level
Booty Builder Workout
Warm-Up:
30 Side Step Shuffle
10 Walking Lunges
30 Butt Kicks
x3
Weight Circuit:
10 Dumbbell Deadlifts
10 Curtsey Combo Squats
10 Goblet Squats
20 Pace Duck Walk Repeat 3-5 times
Plyo Party:
10 Gate Swings
10 Criss Cross Squats
10 Jump Squats Repeat 1-3 times
Booty Blasters:
20 Kneeling Thrusters
10 Kick Overs each side
30 Dirty Dog Raises Each Side Repeat 3-5 Times
Burnout:
30 Feet Elevated Glute Bridges
Have a great workout! Tag your photos @keepgoingkat so I can see your progress!